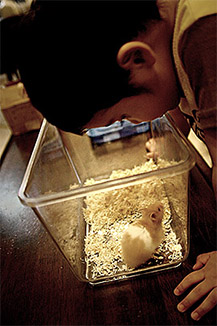 Hammie was once a small Syrian "Teddy Bear" Hamster. He was a jolly little chap, running and jumping around, always trying to escape his cage. We bought him last week from the Pet Shop, and of course, gave him our caring and loving. For a whole week we fed him, played with him, and let him run around parts of our house. We even brought him in our bedroom and put a little flash light on him so we can watch him as we fall asleep.
But yesterday, Wednesday, January 17, tragedy struck the little mouse. I left him, to run around my son's playroom, stupidly, alone with my 3-year old son. I didn't think anything so dreadful would happen, since, we've done this before, although with my supervision. During these times, my son would usually treat him carefully and gently.
At first I hear my son laughing and running around with Hammie. I can feel them having fun. Until, after maybe an hour or two, they started to get eeriely quiet. "What's happening up there?" I said curiously and went upstairs to the room. As I came near my son's playroom door, my son hearing my footsteps, he faintly called out, "Papa!"
As I opened the door, the room topsy-turvy, wood shavings all over the place, he started crying, pointing to Hammie, "What happened to Hammie?!?!?" I looked and saw Hammie lying on the ground, his legs twitching, in his nose was blood.
My son was continuously crying and repeatedly asking, "What happened to Hammie? What happened to Hammie?" Well, it was too late then for Hammie. His body got crushed by my son's toy blocks. Bones broken, and massive internal hemorrhage. In a few minutes, closed his eyes and stopped breathing. It was a tragic moment for all of us.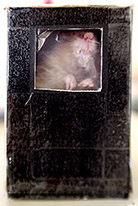 We gave him a nice and simple burial. Even made him a casket with a view window out of cardboard. Dug a hole in the backyard, waited for the sunset and finally said our goodbyes.
Until this day, my son still wakes up in the middle of his mid-day naptime and asks, "Where's the mouse? Where's our pet?" Although his time with us was short, it was sweet and unforgettable.
We will never forget you, our happy little Hammie......