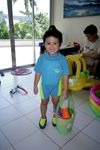 This year, we started the summer with a very long holiday weekend. Work and school stopped from April 5 to 9 to celebrate the Holy Week (Jesus' Death and Resurrection). This was a great opportunity to escape the city and spend our time on the beach. Which is exactly what we did.
We rented a house in this high class community by the beach in Nasugbu, Batangas called Tali Beach. 3 hours drive from the city.
So we woke up early, about 6am, on Thursday, left the house at 8 had breakfast at Josephine's in tagaytay and arrived at Tali at about 11.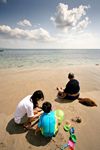 The house was nice but not as good as the house we rented in Fuego, far from it. Although the lot was big, and has a very large, well-maintained lawn/garden. But one thing this place had that the house in Fuego didn't, was a beautiful private beach right in front of the house! It even had a gazebo overlooking the sea. The sand was white and life was teeming in the coral reef just a few meters from the shore. So on the first day, we just wasted away in the beach. Swimming, snorkeling, and building sandcastles.
The next day, we had an early morning walk around the neighborhood where we met a couple of people and saw the most beautiful houses we've ever seen. The community here was great. Everybody greeted everyone else. Lots of pretty ladies too.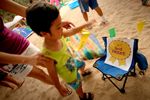 Then on Saturday, there was an Easter Egg Hunt. They did it on a Saturday since they thought on Sunday everybody would be going home and no one would have joined. So, saturday was the best time to do it. So my little David joined the hunt. He was so tired and sleepy during the whole game, even chocolates couldn't get him going. He just dazed and daydreamed the whole time. But with the help of his Mom, who was pulling him all over the place and making him pickup the eggs, he won 3rd place in the 0-3 year old division. The prize was a small beach chair. The 2nd prize was the luckiest since the prizes got mixed up and he got a prize intended for the older people, a really big tent. That was what we were aiming for. The 1st prize was a small kiddie rubber pool.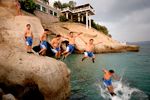 Sunday, we went to this cliff that was famous in Tali, where people jump off from and dive in the sea. There were 3 jump off points with different heights. We tried it ourselves but could only jump from the mid cliff. Okay okay, I chickened out. But I really wanted to do it, my wife was just scared I might break something or create a tidal wave. Hehe. And that behind me in the picture is a house, with a veranda extending to the sea, standing on stilts.
At night we played scrabble, sang on the karaoke and just talked non-stop. And so Monday came and our vacation was nearing its end. But before we went on our way, we had our last meal, lunchtime, in which we ate lobsters. It was so fresh and sweet! Some lady was selling it on the beach, riding a boat. Now we were ready to go home!
It was tiring, but oh so relaxing. Back to reality then. We took nothing but pictures, Tali Beach (click this link to view the gallery).