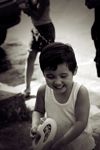 Last Saturday, June 24, I went to this small town fiesta with my precious Canon DSLR on one hand and my son on the other. They call it the Feast of St. John the Baptist where all the people are engaged in a waterbath. The main activity of this feast is town folks shoot or pour each other with water so don't expect to go home dry. Not even your armpit will escape the water baptism. You'll see people arm themselves with their own brand of weapons: squirt guns, water bottles, dippers, pails, or just about anything that can hold water, except the mouth of course or that would be totally disgusting.
Everybody is on the street having a fun time. Every body is wet. One of the neat thing about this bath party is you can hop from house to house to taste food. Even if you don't know the owner. Everyone's welcome. You don't even have to knock, you just come over. I know it sounds crazy! But that's the way it's celebrated.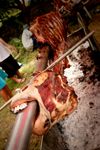 They also have a parade of lechon or roasted pork. It's their Pride Parade version but with roasted pigs as the attraction. Pigs are dressed up as persons and people dressed up as pigs are displayed on a procession. With roasted pigs as the main pageant, beer comes close by. You can even smell the beer in the air, I'm not even kidding!
Lastly, the best thing about this feast is the the roast beef! A whole cow pierced with a stick from mouth to rear and hanged over a bed of coal, chopped and served on a sizzling platter overflowing with gravy. Damn! That just hits the spot!
I just hope PETA won't see this blog!