It has been a long time since I last posted a photo on my gallery. I've been having a slump, not just on photography, but on Post-processing and posting too. I'm thinking, I might just be too busy lately. Although, I still have some photos from our August 2007 visit to the US I haven't posted yet. So, it isn't really work that's been preventing me from posting.
I think, maybe, I'm getting bored of photography. Maybe, I ran out of creative juices. The real reason I'm not posting any photos anymore is, I don't see anything new. It's always the same old thing. The same sunset, the same color, the same vignettes (that everyone's doing nowadays), and the SAME EMOTION. There isn't anything new in all my pictures. Wherever I go, I see the same thing over and over again. My head can't invent anything new anymore.
So, from now on I'm going to force myself to post all my pending images. I'll do my best to post one photo a day.
Until I get my groove working...
Until I find something new...
Until I get my EYE back...
One photo a day, starting now...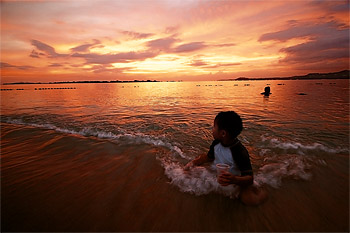 Canyon Cove, Nasugbu, Batangas
Alright!!! Way to go!!! One down, 7,773 images to go!!! Yahoo!!! Of course, most of those are trash and only 1% (or less) will be making it online.
Yes, that number is true, that's about 23.2 GBs worth of hard disk space.