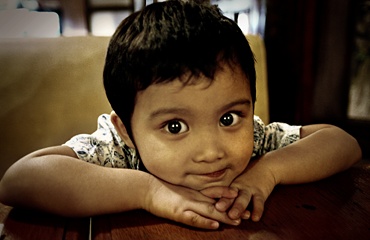 Wednesday was my wife's birthday. At 9:00 pm, the three of us (my gorgeous wife, our cute little son, and me) headed to T. Morato to have some dinner in an old restaurant unsuitably named "A Taste of LA". Part of really enjoying food served in any restaurant is the ambience. In which case, this restaurant failed miserably. The place looked passé with floors and walls suffering from discoloration. I did not savor a bit of LA in it. LA is vibrant and snappy, the resto is dull and feeble save for the laughing obviously-drunken-men. My wife thought that the place being antediluvian is part of the atmosphere but I know she secretly hated it. She's disgusted at everything that looks dirty and smells moldy.The waiter that took our order is well-mannered and spoke good English, a rare commodity in the food-serving industry here. On the other hand, our food arrived a little late which is a very familiar scene.
For starters, we had Beef Salpicao and Grilled Italian Sausages. I totally loved the Beef Salpicao, juicy and soft to the mollars. But the Italian Sausages, what happened to that? I imagined it to look something like mini schubligs and bockwursts but what we got were dry Batangas longganisas to my dismay.
When I eat out, I often make it a point to order the restaurant's special fare. So at that time I ordered Seafood Pasta as the waiter recommended it. According to him, that's their best pasta. Well, their best is not best in my book. The pasta is nothing special. Olive-oil based spaghetti with moderate quantity of the usual seafood; shrimp, squid, scallops, fish. The taste is forgettable. Take note, I hadn't eaten since lunch then so I was starving at that moment and anything I put in my mouth should taste palatable. Don't get me wrong, the food wasn't bad, it wasn't that good though.
My forgiving wife, on the other hand, ordered grilled chicken topped with mushrooms in bernaise sauce, and with mashed potato on the side, and some vegetable sidings. The presentation is impressive. I liked that the vegetables were evenly decorated like peacock tail. The chef evidently is zealous with his craft. The taste? She said it was alright. Enough said. However, the lemon juice she had is just heavenly. It's authentic lemon juice. I've never tasted lemon juice like that before. It's got the tangy taste that leaves you sipping for more. My son loved the garlic bread so we ordered for more.
Another thing that I didn't like about the restaurant is that they only accept Diner's Club and BPI Mastercard. It made us dead worried that we set foot into a restaurant knowing that they would accept any kind of credit card but in the end we would have to find a damn ATM in the dead of the night just to pay them. Fortunately for us though, our bill was modest enough for our wallet to handle and did not end up going over to my mom's house to ask for moolah. My wife has 1 thousand and I got 800.
Lesson learned: bring more money than the wife.
Sorry, no pictures of the food, as I've said, I had not eaten since lunch.