Tuesday, January 18, 2011
| | |
| --- | --- |
| Johnny Rockets - Tomas Morato, Quezon City | |
I'm not really a burger connoisseur. I would categorize myself more of a burger enthusiast than an expert.  Every so often, I would try out new burger joints with my wife just to satisfy my cravings for burgers along with my mission to find the best burger in Metro Manila. This time around, we visited Johnny Rockets in Tomas Morato Ave.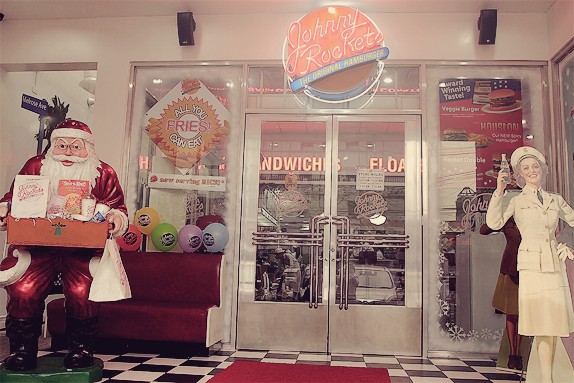 Johnny Rockets offers not just burgers and shakes but also the dining experience typical of American-style diners. Both the exterior and interior are quintessentially American. The fixtures, the decor, the tiled floor all memorialize the era of feel good Americana with some Coca cola memento of various kind. The jukebox near the entrance is a classic.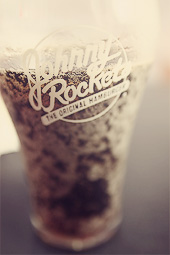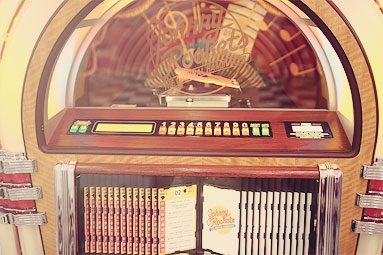 Ironically, diners in the homeland of the US of A essentially offer cheap meals but it ain't here. The price of Johnny Rockets basic burger is very expensive which cost my poor wallet around PhP280. Converting that to dollar, that would be about $6.50 for a piece of artery clogger. This is already considered luxury food here in the Philippines. The burger is very juicy but the patty seems to be somewhat bland. The mustard overpowered it's taste. My wife ordered Philly Cheese Steak, again, the patty was very juicy and very tender but the taste wasn't exceptional, though, my wife loved it, but she's a girl. If we were talking strictly about burgers, I would say Hotshots, Good Burger and Big Better Burgers would be a better choice. The best part about Johnny Rockets though is the free flowing french fries. Gotta love the tartar sauce that came with it.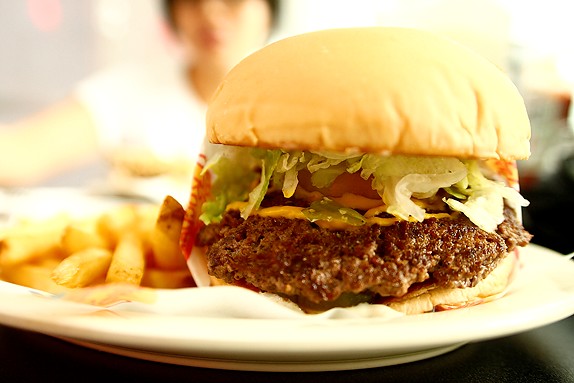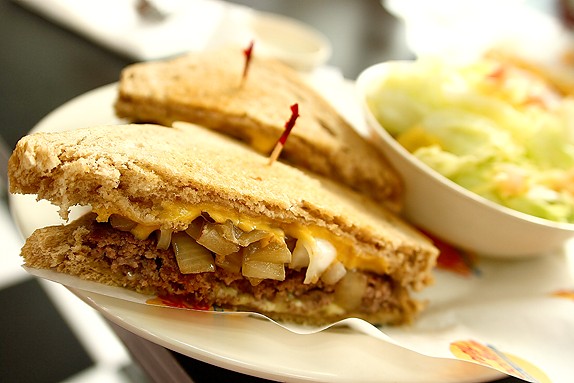 We also ordered their 'white cow', diner lingo for vanilla milkshake. Their milkshake's one of the best so far. It could even be better than In 'n' Out's. But, it does come with a price tag. About P215 or $5.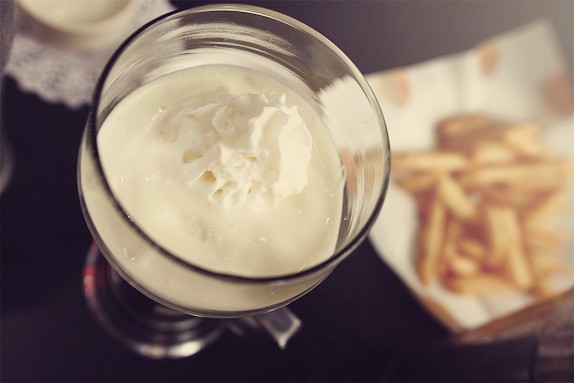 This is our waitress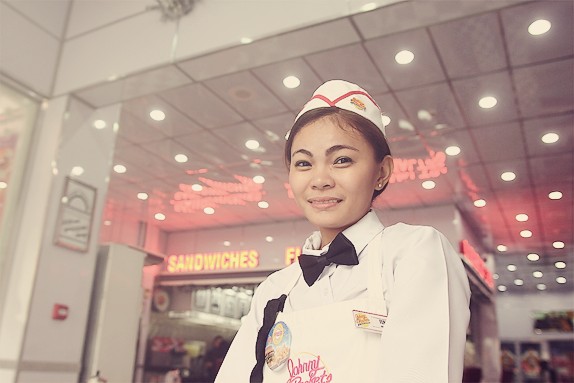 and this is our bill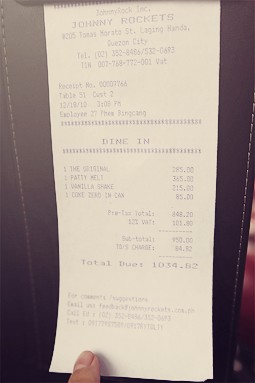 Here are some more photos my wife and I took at Johnny Rockets.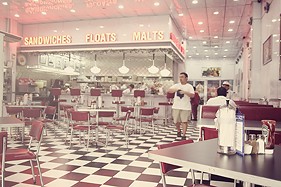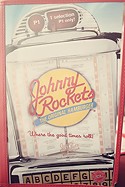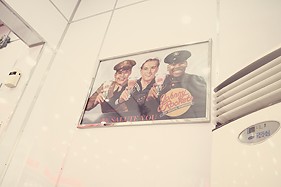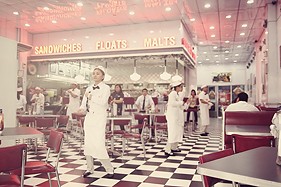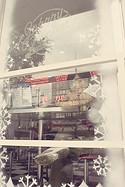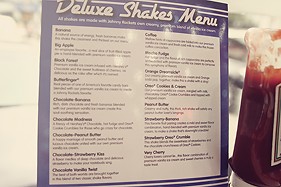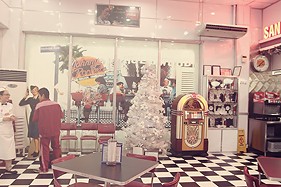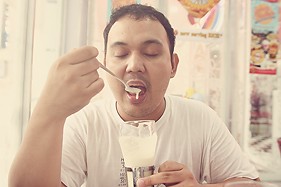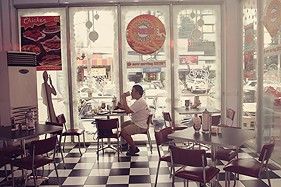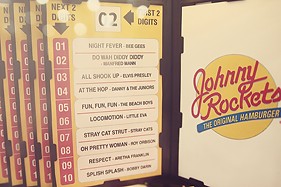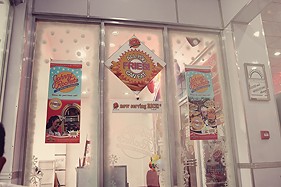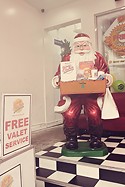 The Wifey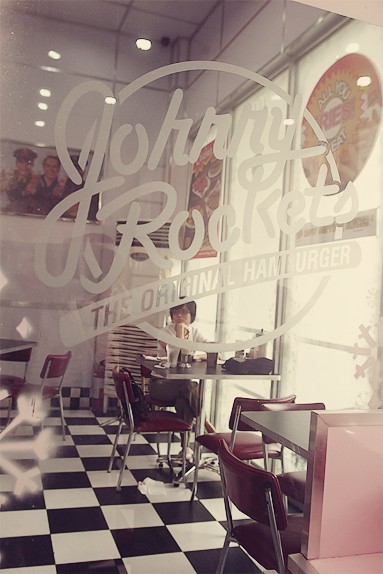 Oh. And the menu, in case you guys wanna see it before you visit Johnny Rockets.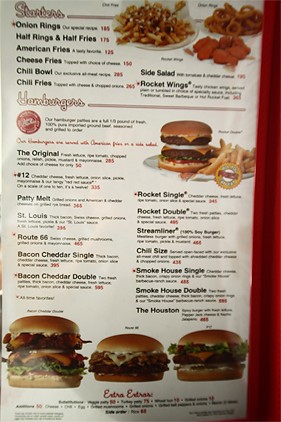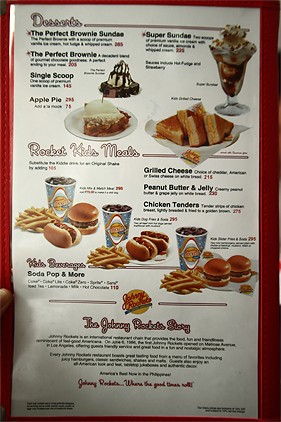 18 Comments
lurker
Wow! Parang ang sarap! Ma-try nga Johnny Rockets...
January 18, 2011, 4:51 pm
Raymond
Yum! I enjoyed reading this. I've tasted Johnny Rockets before at some amusement park. Still, nothing beats In 'N Out in my heart and in my stomach! :D
Oh, and nice photos, by the way. ;)
January 19, 2011, 1:48 am
Marcel
Just for the Milkshakes, Johnny Rockets wins. But for the burger? Isn't anywhere close.
January 19, 2011, 7:40 am
mary anne trono
will i visit johnny rockets morato branch again? i think I wont. I was very disappointed with the crew yesterday July 31, 2011 except for our attending waitress, Angel, she was the only one who was very nice.We did not get any smiles from any of the crew including the supervisor (wish i got his name, the bald guy wearing a yellow shirt) and also the lady wearing red polka dots skirt. Yes they were dancing but you'll never see a smile on their faces. we thought that we will have a good family night out so we chose johnny rockets but it didn't happen the way we wanted it. we were so disappointed. i just hope you could train your crew how to smile it won't cost johnny rockets management a single cent.
August 1, 2011, 5:57 pm
Marcel
Hi Mary Anne. I'm so sorry to hear that. It seems smiles are hard to find in this so-called "Land of Smiles".
Or is that Thailand now?
August 1, 2011, 6:53 pm
TheAdventurousBitch
We had a better time at JR,as the crew is generally friendly to my kid. And we also had the same waitress, her name is Ferly. The last time we went, I indulged in a milk chocolate shake, which absolutely rocked. Kinda pricey though, so I reserve it as a special treat :)
August 16, 2011, 10:31 pm
Marcel
Yup, those shakes truly are something!!!
August 17, 2011, 11:00 am
grace castro
do you accept trainees or students who wants to have OJT in your company? looking forward to keep a comment back. :) Thank you!
April 12, 2012, 7:02 pm
yves
do you prefer trainee students? :) ty.
April 12, 2012, 7:04 pm
Jovi pastrana
@JR @this hr..:))
July 9, 2012, 4:24 pm
morsho
walang kwentang hamberger yan ang mahal mas masarap ang angels burger
January 20, 2013, 1:55 am
instacart promo code
Stunning quest there. What occurred after? Good luck!
August 27, 2017, 3:15 pm
instacart coupon august 2017
This info is worth everyone's attention. When can I find out more?
August 28, 2017, 10:07 pm
publix delivery groceries
Thanks for sharing your thoughts on photos. Regards
September 28, 2017, 7:36 pm
publix deli online ordering
Heya i am for the first time here. I found this board and I find It really useful & it helped me out a lot.
I hope to give something back and aid others like you helped
me.
September 28, 2017, 10:58 pm
tinder
I like what you guys are up too. This kind of clever
work and reporting! Keep up the amazing works guys I've incorporated you guys to blogroll.
October 13, 2017, 10:35 pm
tinder dating site free
Hi there to every single one, it's genuinely a good for me to
pay a visit this site, it includes precious Information.
October 14, 2017, 6:29 am
http://tinyurl.com/yb6ey7kc
Nice blog here! Also your website loads up
very fast! What host are you using? Can I get your affiliate link to your host?
I wish my web site loaded up as quickly as yours lol
December 4, 2017, 11:27 am