The next day, Sunday, was our last day in Singapore. Our flight was 11 o'clock in the evening, so we still had the whole day to sightsee.
I woke up at about 7 am and had a nice walk to the Botanical Garden, just close to our hotel. Well, I took a wrong turn and walked about 5kms, when it was supposed to be only 2 kms. Anyways, I met up with my brother and his family in the Botanical Garden, bought McDonald's breakfast and went back to the Hotel.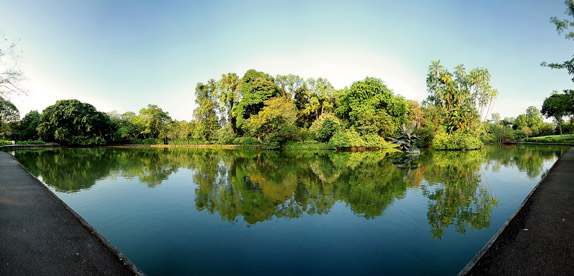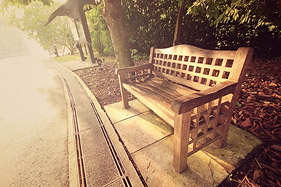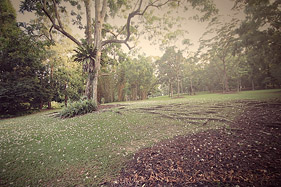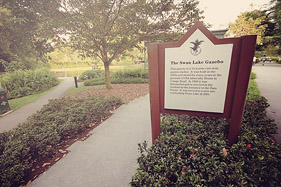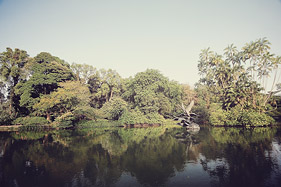 After breakfast, my family broke off from the rest of the group, just us 4, my wife, David, Natalie and myself, to tour Singapore by ourselves.
First up, as requested by David's teachers, we visited Esplanade, a famous theatre right beside the Singapore River. There was supposed to be a museum there but at that time, it was being used by the performers for a show happening that evening, so we weren't able to see it. But it wasn't all a loss, we were able to take pictures of the other side of the river, with a fantastic view of the Marina Bay and the Singapore Flyer.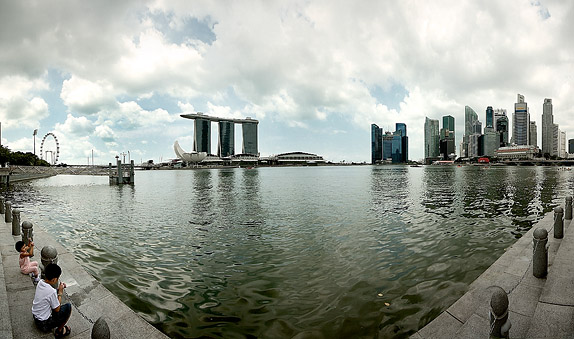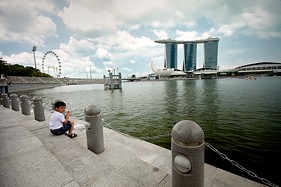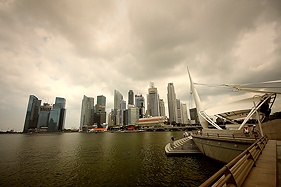 After that, we rode the taxi to Harbour Front, bought 4 round trip tickets for the Cable Car for SG$26 and rode it, first going to Mt. Fabre, and then back to Sentosa Island. The view from up there was so beautiful.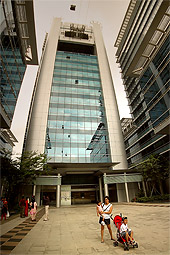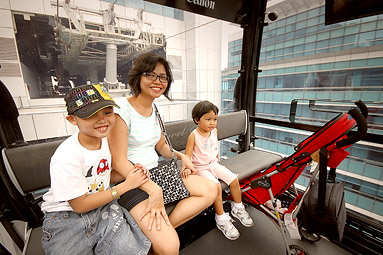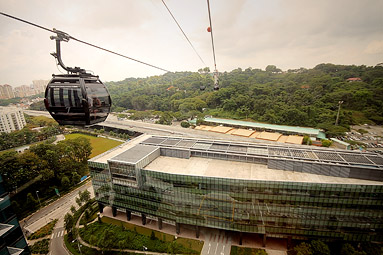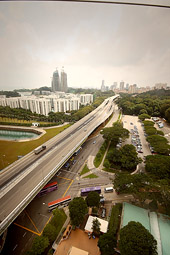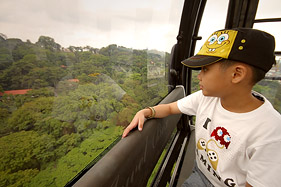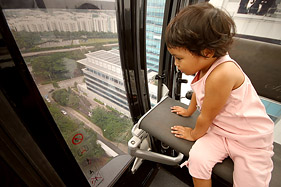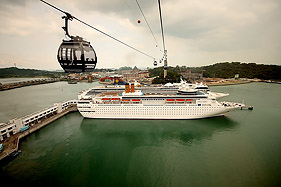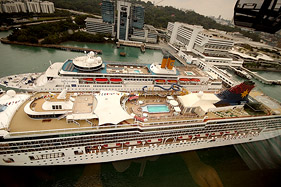 We got down at the Sentosa Station and had our pictures taken for only SG$10.
Sentosa is an island resort at the southern edge of Singapore. About 50% of the island is still under construction, but there are already a number of attractions open in this area, like the Universal Studios, for example. We walked down Imbiah Lookout and found an indian snake charmer with a big python. When David saw it, he immediately wanted to take some pictures with the python. Who are we to deny his dreams of being swallowed alive by a gigantic snake.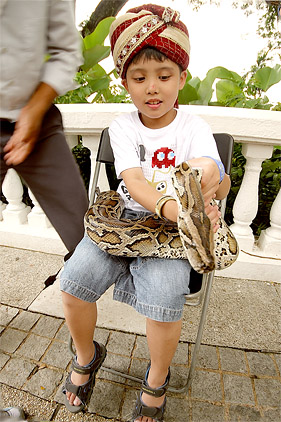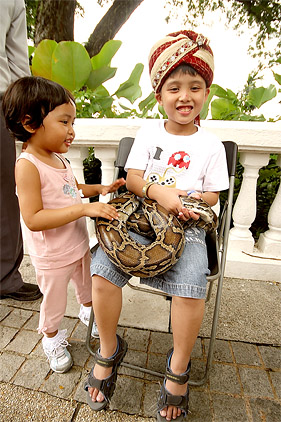 After the snake, we went to Kentucky Fried Chicken for lunch, which is beside the 120-foot Merlion Statue! Which is just a replica of the original, smaller, Merlion in Marina Bay which isn't there anymore because of a lightning strike. Anyways, we had lunch and then took pictures with the Merlion.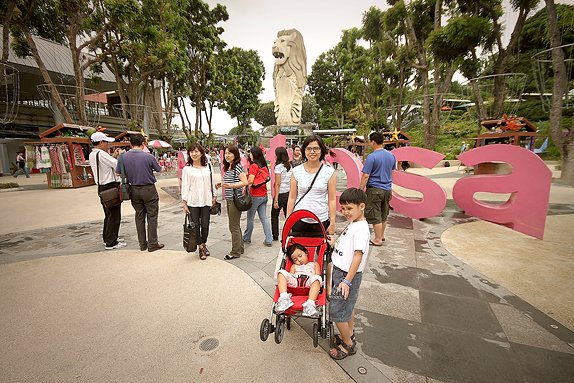 After all these, we rode the Sentosa Monorail, which is free fyi, and went to Vivo City. From Vivo City, we rode the MRT back to Orchard Road.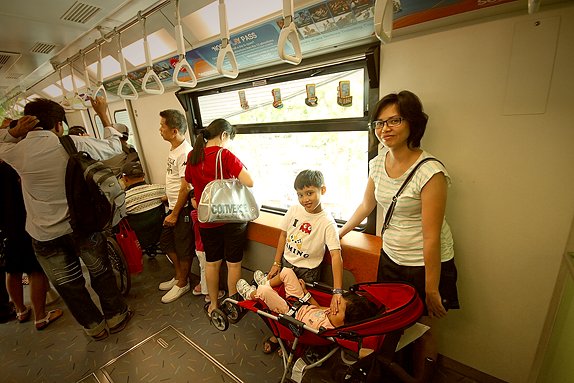 Sentosa Monorail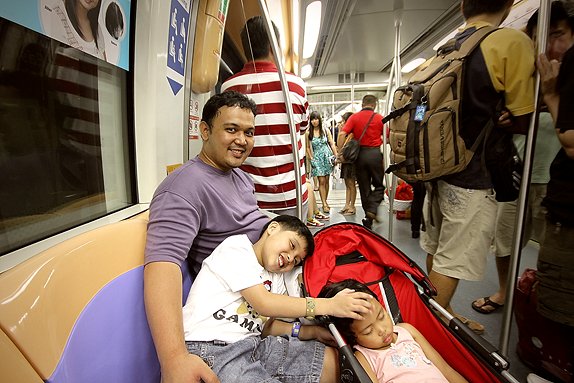 MRT
It was only 3pm so we had a lot of time to waste before our flight back to Manila. So we walked around the network of malls underneath Orchard Road. Yup, malls are underground in Singapore, connected to the Subway, and connected to each other. Maybe because of the holidays, but the malls are packed! Everyone was everywhere! So we just walked around until our feet hurt and then went back to the Hotel by 6pm to meet with the rest of our family.
After meeting up, it was still too early for dinner, so we went to the mall beside the hotel, where there was a big Toys R Us. Since David hasn't bought anything during the whole vacation, he had a free-for-all pick anything deal with his Lola. After seeing how big the toystore was, he got confused and couldn't decide what to buy. I think he ended up with a couple miniature car toys. After Toys R Us, the kids enjoyed themselves in the kiddie rides, still inside the mall.
We had dinner at Grandma's and went off to the Airport. We had a smooth experience in the airport and before we know, we were back in Manila, at about 4am.
Singapore Airport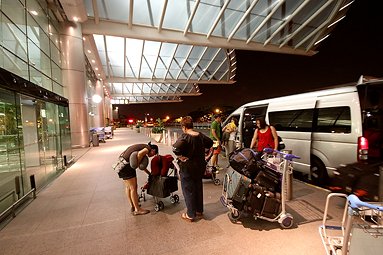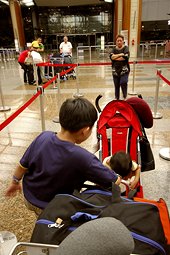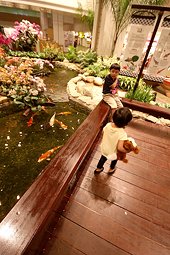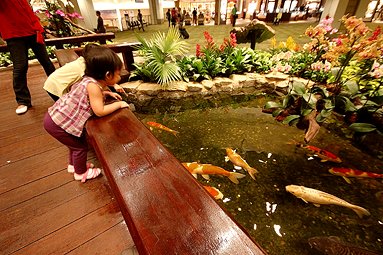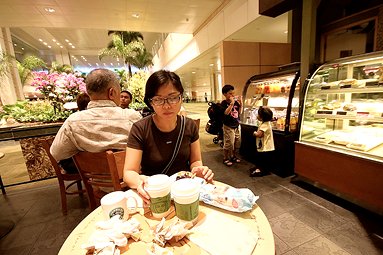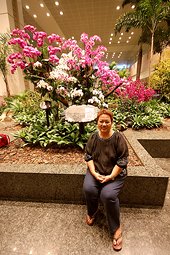 I always thought, our trip to Hong Kong back in 2006 was the best asian trip we've done ever. Well, Singapore beat Hong Kong. I just love how clean and fresh Singapore is, but still so urban and metro. I love the attractions there, and how easy it is to get around! The transport system is just something to envy. And you'll be surprised, in a place as developed as this, at how many trees there are everywhere and how fresh the air is! I already miss Singapore, I hope to go back there in the very near future!
If you haven't read Day 1, 2 and Day 3 entries, click here:
Singapore Day 1 & 2 | Day 3