My son really loves to play rough, run around, move a lot, and bounce around in places. If you meet him in person, you would think he's got ADHD i.e. Attention Deficit Hyperactive Disorder. Some people have mistaken him for being too aggressive. I'd say he's just a spirited little boy. So a visit to the children's museum suited him fittingly. It served as a field trip for our homeschool.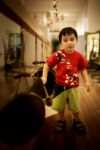 This museum appealed to David. It's called Museo Pambata, it's an interactive children's museum, where kids are encouraged to touch, feel, examine, and try everything save for a few dusty artifacts which would not even catch their attention. David is not an initiate in the world of museum. We already been to a number of museums in Chicago. We've seen the Field Museum, Shedd Aquarium, and the Adler Planetarium. He's only 2 years old back then. He enjoyed looking at the sea creatures.
Friday evening, we were giving David a briefing about our destination. We eagerly told him that we're visiting a museum on Saturday. I explained to him that this sort of museum is like a huge playground and he can play with anything he sees in there, except that it's called a museum. He got the drift.
Saturday came and as usual we woke up late. We arrived in Museo Pambata around 30 minutes before 12 noon in casual clothes. The desk receptionist who issues tickets told us that there will be a lunch break from 12:30 pm to 1 pm and that we can go inside now and leave for lunch then come back again. My excited wife told me that we should go in now so we can have a headstart. I can see that she's very excited for our son but predicted that she's not going to last the day without a halt.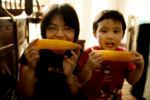 As soon as we were inside, I started snapping pictures especially of my kid. Our first stop, the Filipiniana section. Lots of interesting things here but there's not much a small kid can do. Next stop is a room with three big aquariums the other one empty. There are effigies of sharks, whales, dolphins, and rays hanging on the ceiling. On the adjacent room, there's a mock-up sewer, a representation of a mangrove, pond, cave, small nipa hut, and huge fake trees. We covered the whole of ground floor in an hour. Perfect timing I should say.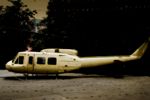 On our way to lunch, we passed by a huge broken down helicopter, still a part of the museum's attractions. David immediately got excited and ran towards it. So he and my wife, explored the run-down chopper and quickly stepped inside. After just a few seconds, David oddly went outside. I found out from my wife that the chopper had an awful smell, something like a biker's sweaty hand glove.
So, after that, we had lunch at Chowking, a chinese fastfood just across the museum. I had a bland chicken noodles. Instant noodles taste better. My wife enjoyed her Braised Beef and rice. David dutifully ate his chicken and rice. I also ordered milk iced tea which I think tasted good.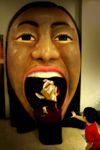 We left the fastfood joint at about 1:15 pm. I saw people flocking already on the entrance. So went straight to the 2nd floor to check out stuff there. There are lots of good stuff there on the 2nd floor. The human body is the first exhibit. There's a huge face with carpeted tongue sticking out welcoming curious onlookers. You can pass through the mouth to get inside but David was squeamish and didn't want to get in. We managed to coax him to go through the door on the other side. Inside, there are huge representations of body parts. Kids will learn the purpose of each organs with plastic veins protruding. David hated the place. This is where we discovered that he's not cut out to be a surgeon or dentist.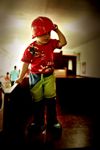 Our next stop is where he started to enjoy our trip. We passed by play stores with props to match. We stayed longer than anyone else in the fire truck area which I think is David's favorite part. We went to the sports section. Not much here really. Then finally in the Science section where it was fun trying things all through out. David liked the Science section too.
Lastly when it was time to go home, David lingered on and going home is not part of his plan. I can't remember how we persuaded him that the car cushion is a better chair than the boulder. But everything turned out fine.
I really recommend Museo Pambata to all you filipino mall rats. It's a fun and educational alternative to malls.
For more pictures of our trip, check my Museo Pambata gallery.
For more info about Museo Pambata, go to http://www.museopambata.org