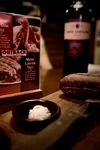 The OutBack Steakhouse! Experience Oz right in your neighborhood! Well at least inside the metro!
Last Wednesday, October 25 was my birthday and thought we'd go out for a nice steak dinner. We drove off to the edge of the city, Libis, and went to this boozer called, The Outback Steakhouse, well, maybe not a boozer, but it does have lots of booze. Oh! And stuffed crocs!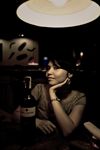 Anyways, the place was very relaxed, private and toned down, maybe because of the lighting and the fact that there was very few people eating at the time. It was also very child friendly for a pub (no it's not a pub). It had puzzles and toys for children to play with. So we sat on one corner of the resto and our waitress brought some toys for David and a slab of bread for us to munch on while she takes our order.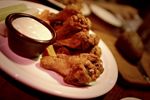 We ordered Kookaburra wings for starters. It was some mighty tasting wings! Spicy and delicious!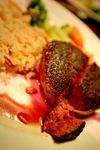 My main entree was a 9 ounce steak (medium rare). It was pretty damn small if you ask me! But it was "BLOODY" delicious! Umm! Umm!!! It definitely hit the spot! Oh yes! But I certainly didn't have enough though! It left me wanting for more! I don't know if that's good or bad. It came with soup and rice pillaf, that helped fill my basket.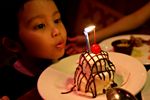 My wife ordered some fish I can't remember what. She said it was succulent and scrumptious. I tasted it and....... I really love steak!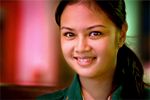 And, of course, what's a birthday without a birthday cake? Compliments of Outback!
Finally, here is a picture of our cute waitress whose name was Czarina.